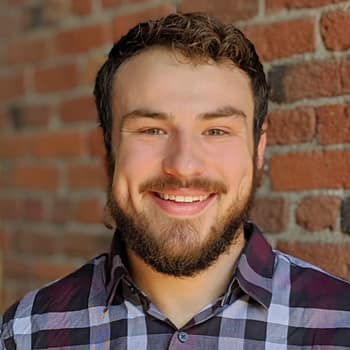 Leif Krapas
Process Engineer
"There are no shortcuts to any place worth going."

–Beverly Sills
background
Leif was born and raised in Hayden, Idaho and currently resides on the South Hill of Spokane, Washington. He grew up balancing academics with sports, playing baseball, football, and wrestling at the varsity level in high school. He attended the University of Idaho in Moscow, Idaho, where he earned his Bachelor of Science in Chemical Engineering.
Leif has a gift for computers and originally majored in Computer Science before changing majors to Chemical Engineering. In high school, he built computers for friends as a hobby and quickly became the go-to IT person at Varela. He's a great person to help when we have a tricky computer problem.
Leif's earned himself a reputation in the office for being a bit of a brain, consistently conquering new and challenging tasks thrown at him by the senior engineers.
interests
Leif enjoys spending time with his fiancé and friends and appreciates all kinds of craft beer. He likes doing anything in the outdoors, especially hiking, backpacking, time at the lake, and snowboarding at Lookout Pass in Idaho.
An adventurer at heart, in Leif's sophomore year of college he dropped everything and purchased a one-way ticket to New Zealand where he visited for four months and lived with friends. He spent his time exploring the North Island while doing concreting to earn a living. Upon returning to the States, he switched majors to Chemical Engineering and went on to earn his degree.
Leif is also an adventurous eater and foodie. He appreciates going to new places and trying new foods. Alligator and emu are among some of the most unique things he's eaten, although he says he'd be up for trying just about anything.
He's also been known to solve the most difficult Escape Room puzzles while under pressure, in record time. You know, for fun.
It's also rumored that Leif has some mad juggling skills.